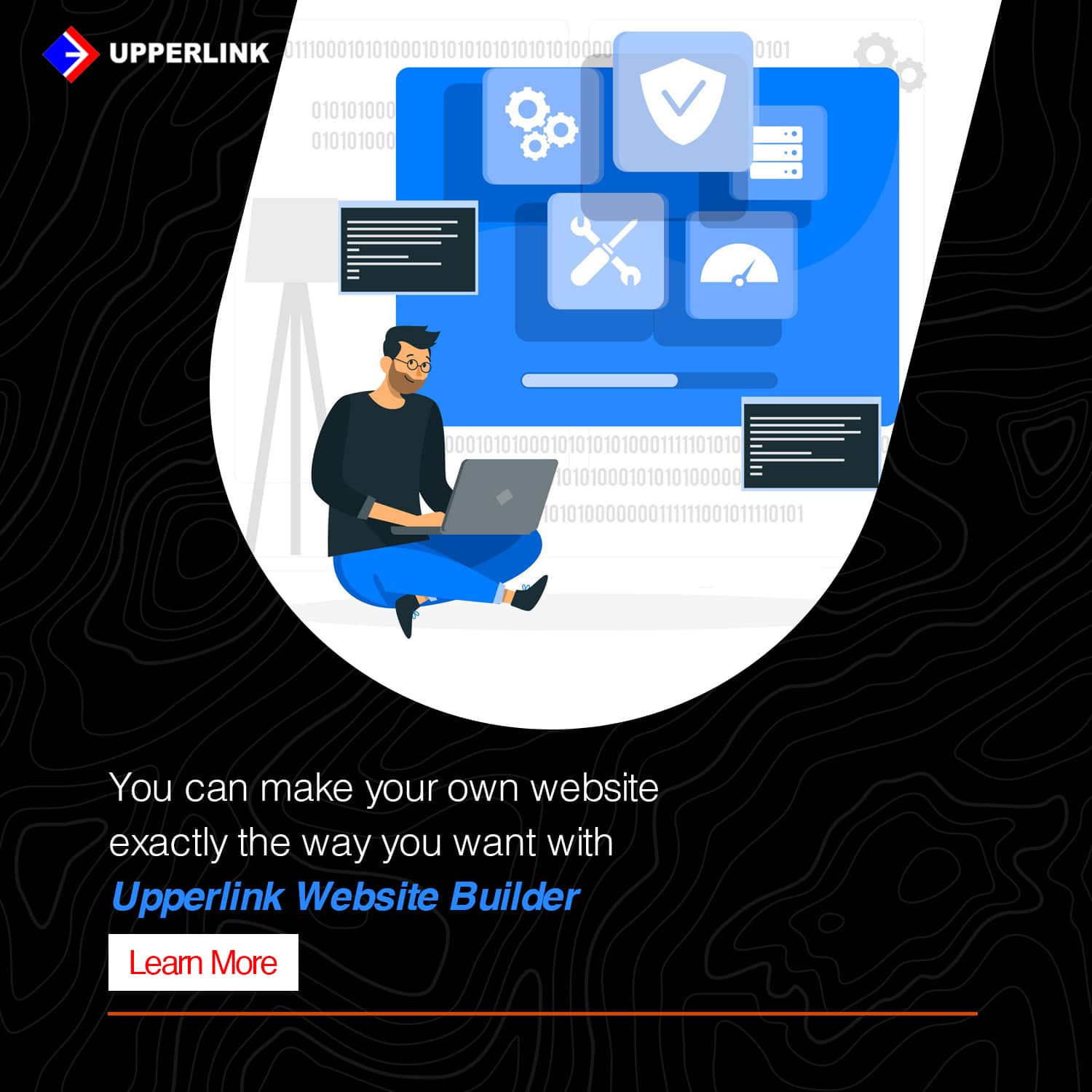 ---
How Does Upperlink Help Small Business Owners Succeed?
Upperlink offers more than just a platform to build your website; we offer everything you need to create an effective and long-lasting online presence. For people who already have an existing site, we offer hosting plans that will keep it fast, secure and online.
We provide professional email addresses which create a professional image for businesses. Upperlink is an all-in-one solution provider where you can get your ICT related ideas, backed with expert support and personalized support from Upperlink Guides.
Why Get a Domain Name from Upperlink?
Upperlink is one of Nigeria's largest and most reliable domain registrars. Our main focus is on how to enable businesses to succeed online. Using our domain search tool and domain name generator tools, you can build the perfect website address for your business.
Additionally, we provide free tools for designers and developers. You can save time with bulk WordPress updates and automatic backups; manage multiple clients from a single dashboard, get exclusive members-only discounts and a lot more at no cost.
Why Acquire a Website for your Business?
When people need a product or service, the web is the first place to go, the reasons for this are obvious. Every modern business has joined the business and the ones who haven't joined and missing out on substantial revenue. Every business desires a website to assist them with the following:
Connect with new customers and also keep existing customers
Promote and sell their products and services
Build credibility
Compete with larger businesses
Control their brand and keep their marketing, both fresh and existing
A website is way easier to acquire and more cost-effective than you might think. Upperlink offers a variety of online tools for building websites, along with hosting, email and marketing options to grow their business online
Why Do I Need a Professional Email?
We can't begin to list all the reasons why you should switch from your free email to a domain-based email, however, some reasons include:
Customers are much more likely to trust a professional address like joes@joessocks.com than joessocks769@hotmail.com.
A Professional email provides topnotch security with industry-leading spam and virus filters.
Using custom-made email addresses promotes your business more efficiently. Every time you send an email to customers, you are also giving them your web address, encouraging them to visit your website.
Why Use Upperlink Website Builder?
Upperlink provides one of the fastest and simplest methods of creating a website. Our websites are efficient and user-friendly, which means your customers will love them. Simply type in your idea or industry and Upperlink Website Builder will pull up several professionally designed, ready-to-launch templates. All you'll need to do is build own content and you're good to go.
What Makes is Upperlink Web Hosting the Standout?
Upperlink has the experience, technology and hosting experts to help web designers, developers, bloggers and online businesses create and maintain their online presence. We have a secure hosting platform, complete with Cpanel, which offers a 99.9% uptime guarantee and unbeatable support. Our business has helped millions of businesses get online.
We offer a range of services including;
Shared hosting
Domain Reseller
Naija Hosting
Domain Names
Shared Hosting
Shared hosting offers the most cost-effective way to get a site online because the costs of maintaining a server are split among all the users. This kind of hosting is most suitable for small websites or blogs that do not require advanced configurations or high bandwidth.
Our Shared Hosting Plans include;
The Starter Plan offers 2GB of storage, 5GB bandwidth, unlimited emails, unlimited MySQL and one subdomain at N2000 annually.
The Basic Plan offers 5GB of storage space, 10GB bandwidth, unlimited emails, unlimited MySQL, 1 Addon Domain, 5 five subdomains and free .com.ng, .org.ng, .net.ng domain names at N4,500 annually.
Unlimited Shared Hosting Plan offers unlimited storage space, unlimited bandwidth, unlimited emails, unlimited MySQL, 10 Addon Domains and 50 subdomains at N22,000 annually.
The Bronze Plan which comes with free .online domain offers 10BG of storage space, 25GB bandwidth, unlimited emails, unlimited MySQL, 3 Addon domains, 7 subdomains, and free .com.ng, .org.ng, .net.ng domain starting at N6,500 annually.
The Silver Plan which comes with free .online domain offers 25GB storage space, 50GB bandwidth, 10 subdomains, 5 Addon domains, 7 FTP accounts at N15,000 annually.
The Gold Plan -which comes with free .online, .com.ng or .xyz domain- offers 45GB storage space, 125GB bandwidth, 10 subdomains, 10 Addon domains and unlimited FTP accounts at N300,000 annually.
Reseller Hosting
This allows you to host multiple clients and allow them to manage their orders independently. Upperlink Reseller Package allows you to become a web hosting provider without having to manage your web server or datacenter. You can generate your custom hosting plans under our hosting structure, use your brand name and sell it to your customers
Our Reseller Packages include;
The GAMA package offers 25GB storage space, unlimited bandwidth, WHM access, 25 Cpanel accounts, faster PHP with LiteSpeed API, HTTP/2 support and LetsEncrypt SSL at N50,000 annually.
The BETA package offers 100GB storage space, Unlimited Bandwidth, WHM Access, 50 Cpanel Accounts, faster PHP with LiteSpeed API, HTTP/2 Support and LetsEncrypt SSL at N80000 annually.
The ALPHA package offers 250GB storage Space, Unlimited Bandwidth, WHM Access, 120 Cpanel Accounts, Faster PHP with LiteSpeed API, HTTP/2 Support and LetsEncrypt SSL, Unlimited FTP at N200000
VPS Hosting
VPS is short for a Virtual Private Server. VPS hosting is usually chosen by website owners who have medium-level traffic that exceeds the limits of shared hosting plans but still do not need the resources of a dedicated server.
Upperlink offers a more protected and stable solution than shared hosting where you do not get a dedicated server space. However, it is smaller-scale and cheaper than renting an entire server.
Naija Hosting
Upperlink offers an array of web hosting plans in Nigeria, they include;
King Plan offers 10GB Disk Space, 10GB Disk Space, 50GB Bandwidth, Unlimited Email Accounts, Unlimited SQL Databases, 5 Sub-domain, 5 FTP Accounts at N15,000 annually.
Knight Plan offers 25GB Disk Space, 25GB Disk Space, 100GB Bandwidth, Unlimited Email Accounts, Unlimited SQL Databases, 10 Sub-domain, 10 FTP Accounts at N35,000.00 annually.
Rook Plan offers 45GB Disk Space, 45GB Disk Space, 1TB Bandwidth, Unlimited Email Accounts, Unlimited SQL Databases, 15 Sub-domain, 10 FTP Accounts at N55000 annually
Queen Plan offers 75GB Disk Space, 75GB Disk Space, 1TB Bandwidth, Unlimited Email Accounts, Unlimited SQL Databases, 20 Sub-domain, 10 FTP Accounts at N80,000 annually.
Why Choose Upperlink For WordPress?
We provide reliable and affordable WordPress hosting plans, one-click installs and the latest versions to ensure the most recent features are available for your site. With these plans, website contents can be managed from one place; you'll be provided with a collection of themes and add-ons giving your business, unlimited options to succeed.
Why Should I Transfer my Domain, Website or Web Hosting to Upperlink?
Our excellent customer support tops the list of reasons people move their web presence to Upperlink. Another widely held reason to transfer to us is that our prices are very reasonable.
If you already have one or more of our products, transferring your domain, website or hosting to us consolidates your web presence with one provider making your online business easier manage.